A new wave of period activism is a-flowin' (ha) around the world. High on the agenda is tackling period poverty to support the millions of people around the world who can not afford menstrual supplies, promoting sustainable alternatives like reusable menstrual cups in the face of climate change and campaigning for greater awareness of periods in the workplace, schools and life in general.
Menstrual activists are united in fighting for drastic change in the way we think about periods. Reimagining menstruation as something positive and worthy of celebration, undermining the pervasive negative attitudes so ingrained across cultures. You can help.
Here's a snapshot of menstrual activism from around the world and ways you can get involved:
Bloody Good Period began with Gabby Edlin. Food banks across the UK often lacked sufficient supplies of menstrual products for those in need, and she was going to do something about it.  While period supplies are a necessity, they can be an expensive luxury too often out of reach for many experiencing financial hardship, who must often improvise with toilet paper, pieces of material, or nothing at all. What started as a call to arms on Facebook became an enterprise now supplying products to 25 drop-in centres across London and Leeds. They sell some cute period merch, and host some pretty rad fundraising events, panel discussions on sex and body positivity and all Femme Jams. Image of Bloody Good Period Founder Gabby Edlin. Image Credit: Seren Morris / RightsInfo

Pink Parcel is a monthly period product subscription service that did some research and found that a whopping 92% of period advertising is from a binary perspective. Pink parcel wanted to represent diverse menstrual experiences to normalise periods and smash the menstrual taboo for all people who menstruate.  Last year, they launched 'I'M ON' featuring 23 year-old Kenny Jones, the first-ever transgender male to appear in a menstrual advertisement. The campaign challenges period stigma with colourful fashion items,  splashed with positive alternations of the common phrase 'I'm on' (to describe being on your period),  like 'I'm on the up' or 'I'm on cloud nine'. What's more, about $7 from each item sold goes to Bloody Good Period. Image of Kenny Jones from pinkparcel.com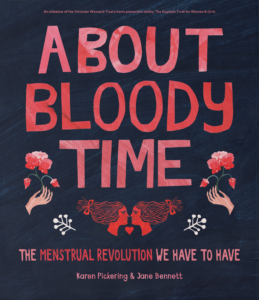 Since 2013, VWT has been researching periods and menopause to shift the conversation to positive. They began by surveying over 3,500 people about their experiences of menstruation and menopause. Their goal was finding the commonalities in this shared experience and the taboo's impact on our health and wellbeing.
The results are in. Their findings are analysed and thoughtfully reworked in their book, About Bloody Time: the Menstrual Revolution We Have to Have. Written by feminist organiser Karen Pickering and renowned Australian menstrual educator, Jane Bennett, you can get yours now.
Sidenote: this project also lead to the introduction of a Menstruation and Menopause Policy at their office, the very first in Australia (but hopefully not the last!). The policy template is available to download here. Image from VWT.
Period. End of Sentence (2018)  is a powerful short documentary directed by  Iranian-American director, Rayka Zehtabchi. And it's making a statement: period stigmatising needs to stop. Period. The documentary follows a group of women in rural Northern India who started a sanitary pad business, The Pad Project, to reduce period poverty by providing products to those in need and tackle the period taboo. The film itself is now raising much-needed awareness of diverse menstrual experiences across the globe. Particularly, how in India, the stigma is so deeply rooted that menstruating can mean missing out an education or a job. Winning an Oscar for Best Documentary Short Subject and taking home more than 10 others since release, it's a must-watch. Image from PadProject.com
This article is the first part of a two-part series. Look out for the second edition next week. 
Written by guest blogger Alice Chambers. This article was originally published on Victorian Women's Trust – An independent advocate for women and girls. Since 1985, they have been promoting true gender equality through annual grants, targeted research, education, policy submissions, events and more.
Lead photo by Josefin on Unsplash